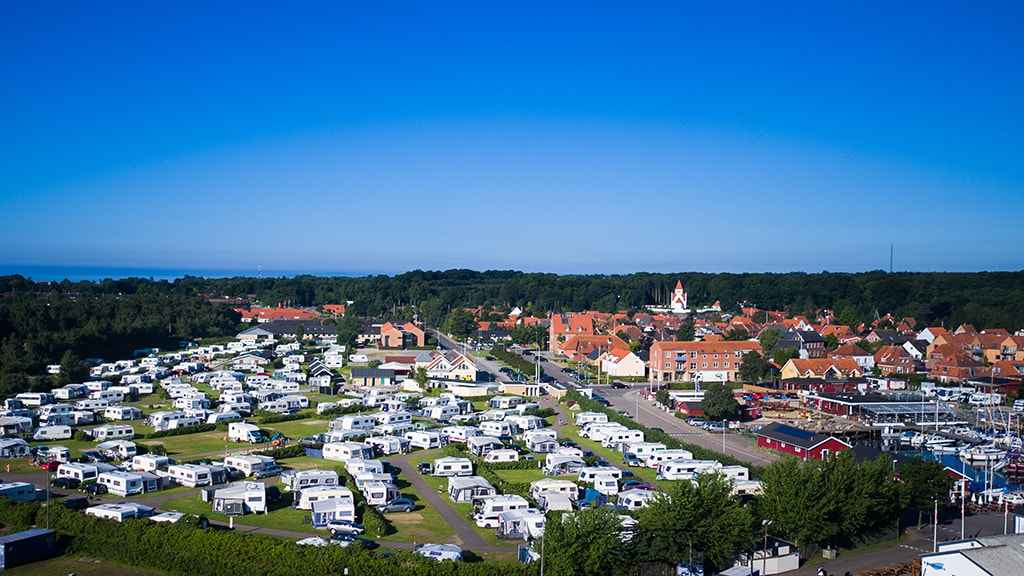 Juelsminde Strand Camping
In the heart of the town - in the heart of Denmark
You will not find a better location than at Juelsminde Strand Camping. The campsite goes right down to the popular Blue Flag beach, Storstranden. At the same time, it borders the busy marina, where there are beautiful eateries and always a great atmosphere. You are also remarkably close to the town's shops. Well, actually, you are only a stone's throw from all the things that makes Juelsminde incredible.
Juelsminde is centrally located in Denmark within a short drive to all of East Jutland's attractions and towns such as Billund and Aarhus.
Juelsminde Strand Camping is the perfect choice for a camping holiday on the eastern coast of Jutland.
Staying overnight for every taste
Juelsminde Strand Camping offers many different options for staying overnight, and of course, you can stay overnight in a caravan or tent in the beautiful surroundings.
If you do not have a caravan, you can hire one of the big, cosy and well-equipped cabins, which have their own bathroom, toilet, kitchen and TV.
Adjacent to the campsite is the RV site where you can arrive around the clock, and then there are also hostels with different size rooms (1-6 people).
Wherever you choose to stay overnight, you have access to the campsite's facilities.
Great facilities for children and adults alike
The modern campsite has new service buildings with family, disabled and baby shower rooms, laundry facilities, a lovely big kitchen with a dining area, an outdoor kitchen and large terrace.
There are two playgrounds for the children where the little ones can be in their element, and when you want to enjoy some cosy family time, you can have a game on the popular mini golf course that attracts the site's campers, sailors and tourists.
There are many events and activities organised on the site during the summer. For example, there is live music or you can have a great meal at the Friday buffet, and activity days are arranged in the creative workshop for children.
Camping year-round
It is not just during the summer months that you can camp at Juelsminde Strand Camping. The campsite and its facilities are open throughout the year. Juelsminde is beautiful in all four seasons, and you can always take long walks on the beach and in the countryside or ride a bike and experience the surrounding area.
Book your stay
Do you want to camp on a cosy, modern campsite in Denmark's best location? Book your stay here.
Nice campsite for the whole family with excellent facilities. Situated by the end of the main street in the centre of Juelsminde. Situated by the beach and the marina.Excellent opportunities for tours in the area.